The CRM market has recently become the biggest enterprise software market in the world. Investing in CRM today gives a huge boost in terms of productivity and effectiveness.
Sales management systems are easy to use, to setup, and also to keep up to date. They work wherever and whenever you work. So you can use them from all devices and even from a sidebar in your Gmail or Outlook inbox. The great advantage of sales software is that it can be installed both on-premise and in the cloud.
Best sales management software tools
We tested several best software products to represent you the most efficient and really productive. They are all simple, accessible and adaptable CRM solutions. They give quick access to the history of customer interactions and prospects.
With these solutions the whole team will be on board since the first day of implementation. All data is gathered on a dashboard, from where you can conduct operations. The need to click is minimized, and tasks are completed with almost a single button.
#1: bpm'online
bpm'online is a process-driven solution for mostly midsize organizations. This online sales software offers a variety of online tools to automate business processes in marketing, sales and service. It's widely used in number of industries including retail, financial services, legal and more. BPM'online is available in three basis packages for businesses of different sizes.
Features:
aligning marketing, sales, and service on a single platform;
top-level data protection from any type of unauthorized access;
possibility to change processes in the CRM without special technical skills;
open source configuration for real independence in management.
#2: Salesflare
Salesflare is the convenient sales software for startups and small businesses. This platform was created especially for salespeople. The main advantage of it is the ability to pull data from existing customer information pools automatically.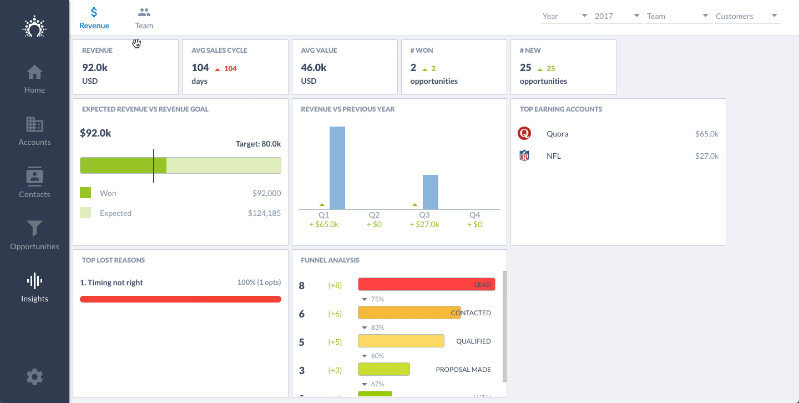 Features:
automated data entry: gathering and storing of all customer information, what reduces time spent by as much as 70%.
reminding staff about who and when they should contact;
collecting information on customers for deeper insights into relationships with them;
data migration capabilities for complex business processes.
#3: Maximizer
Maximizer is integrated software for sales management which is a great solution for organizations of different sizes. It gives convenient features for sales management, lead qualification, performance metrics, customer account management and more. Built-in, customizable dashboards, data and events reports make organizational issues not so complicated.
Features:
campaign planning possibilities;
marketing analytics functions;
quick search and filtering customer data by pre-defined criteria;
sales team monitoring with the help of the rate of close and abandonment of deals.
#4: amoCRM
amoCRM is a web based sales software you can use everywhere where the Internet is available. It gives great opportunities to manage business pipeline, follow the tasks of sales team and receive feedback. If it's necessary, users can have extend amoCRM's capabilities. The solution helps see the whole picture of your progress.
Features:
custom field creation;
uploading customers from contact databases, such as Outlook or Gmail;
communication of all filled forms of a subscription and orders on business websites with the software;
transforming first-time contacts into leads.
#5: Autopilot
Autopilot is a visual platform for creating automated marketing campaigns and maintaining relationships with customers. This solution may be a good choice for medium-sized businesses. It has an easy to use workflow tool that gives you information about every customer interaction (emails, triggers and so on).
Features:
multi-channel marketing capabilities including all possible types of modern mobile communications;
viewing user activities and monitoring campaign return on investment;
email marketing and core campaign management;
marketing automation reports are tied to the communication channels.
#6: OnePageCRM
OnePageCRM is perfect sales software for small business owners and all salespeople. It can really change the way you do your business for the better. All core software functions are kept on a single page. It's quick to sort contacts, and easy to take sales action decisions. The platform is built as a sales tool.
Features:
all the notifications are places at the main screen and are easy to manage;
contacts and next actions are just combined for you into main area;
morning reminders give a heads-up for the day ahead;
built-in sales targets and a deal pipeline help you forecast and manage sales.
#7: QuickBase
QuickBase is a comprehensive solution with CRM functionality which is highly configurable for unique business needs. It can be configured with numerous applications. The software allows collaborating with team members, clients, partners and vendors. It provides you with fast and lightweight performance.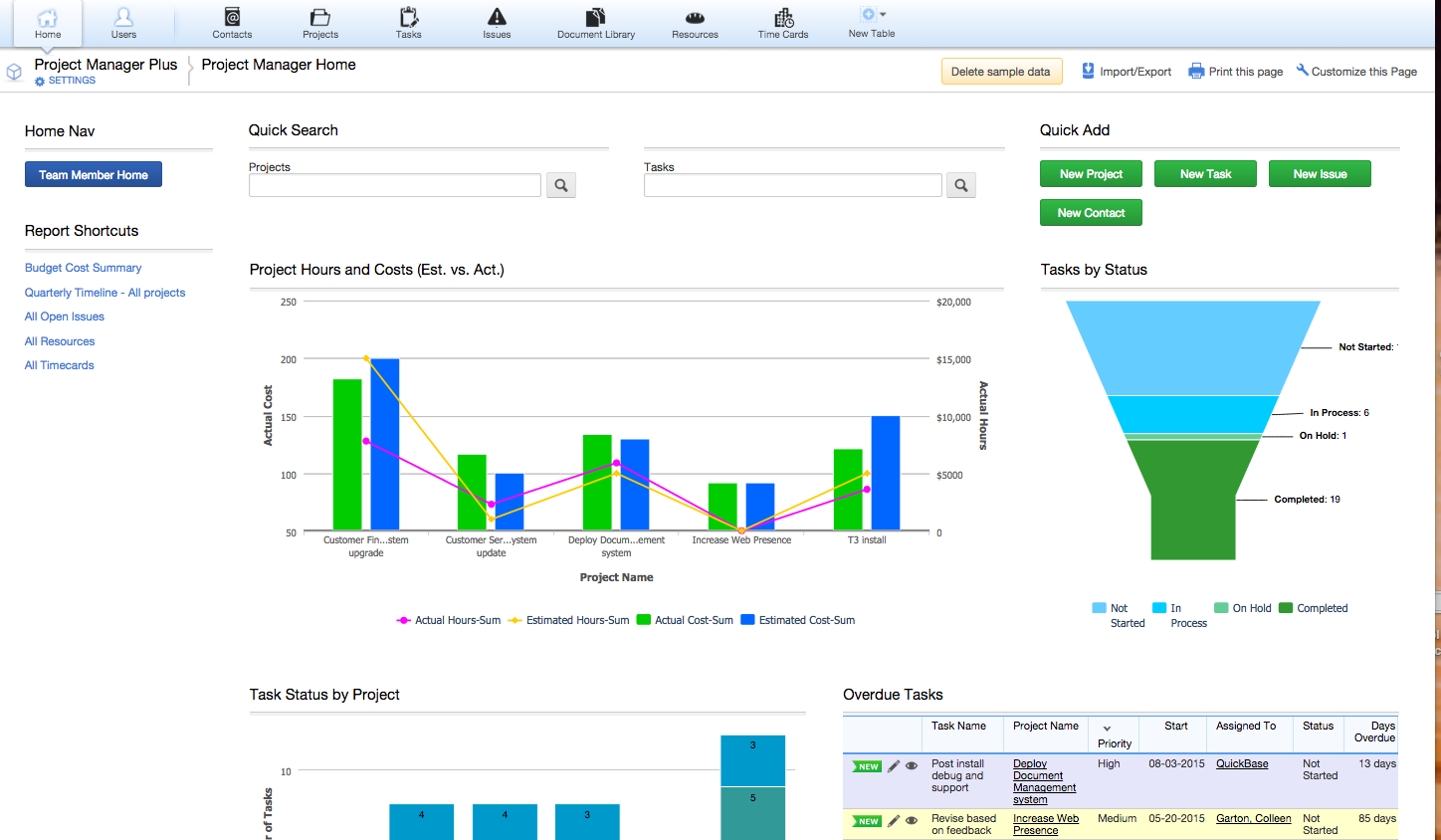 Features:
smart templates to get started without any special preparations and coding;
high flexibility and adaptation to any work environment;
sharing data and creating reports;
simple creating apps to keep track of your daily work and business sales.
CompanyHub is a cloud-based automated sales CRM that helps you grow your sales productivity. You can actually get new business every month by auto follow-ups suggested by the CRM. This reduces sales team time in setting up manual tasks and reminders. You can easily stay connected with your customers and spend more time in core selling.
Your contact management becomes easy with features like follow-up suggestions and all email related features like email sync, email tracking, bulk emails and you can also make custom email templates. All features in one place.
You can also have complete transparency in your deal pipeline as you will be able to see all the open deals as per their stages and your team can prioritize which deals have to be focused more.
Features:
Easy contact/lead management
Email productivity suite
Automation /Sales bots
Reports
Customization
Integrations
Transparent deal pipeline
Analyze and choose the solution for youself
It's impossible to find best software for sales management that will totally suit your business. But all the mentioned solutions can be modified for your special requirements, budget, and other factors.
The interface of any software of this type is really user-friendly and intuitive with no patterns to learn. You almost have no chance to get or do something wrong.
The solutions really convert the complexity of CRM into a to-do list. You can just explore any CRM demo version for free and find the one to your particular business requirements.